Healthcare Information For All by 2015 (HIFA 2015)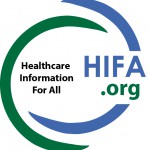 The HIFA Vision: A world where every person and every health worker will have access to the healthcare information they need to protect their own health and the health of those for whom they are responsible.
The Healthcare Information For All by 2015 (HIFA) campaign was launched in Mombasa, Kenya in October 2006, at the 10th Congress of the Association for Health Information and Libraries in Africa. The shared vision is a world where people are no longer dying for lack of healthcare knowledge. There are now more than 10,000 members from more than 2000 organisations in 167 countries. HIFA members interact via 5 email discussion forums in 3 languages, in collaboration with WHO and others.
The First HIFA SMART Goal: Mobile Healthcare Information For All
The mHIFA Working Group is leading the HIFA community in achieving Mobile Healthcare Information For All:
"By 2015, at least one telecoms provider, in at least one country, will endorse the vision of Healthcare Information For All, and will provide free access to essential healthcare knowledge in the local language, pre-loaded on all new mobile phones they may sell and freely downloadable to all those who already have a mobile phone."
HIFA Discussion Space
HIFA provides a neutral discussion space for all those with an interest in the creation, exchange and use of relevant, practical healthcare information for citizens and health workers in low- and middle-income countries.
We support HIFA (Healthcare Information For All)
We believe that every person and every health worker should have access to the healthcare information they need to protect their own health and the health of those for whom they are responsible. We encourage you to join the HIFA forums here: www.hifa.org