International Social Prescribing Day

Announcing the world's first International Social Prescribing Day on 14 March 2019
The Social Prescribing Network is excited to announce the world's first International Social Prescribing Day which will highlight the importance and significance of social prescribing within healthcare and its potential benefits for wellbeing for people across the world.
Social prescribing is a healthcare model that takes a holistic approach to people's health and wellbeing. For many, the biomedical approach is often unable to address key factors affecting someone's health such as social and welfare issues. Social prescribing enables people to be referred to a link worker who will co-design a non-medical prescription (by connecting them with voluntary and community groups or accessing specialist care and advice) to improve their health and wellbeing.
International Social Prescribing Day represents the first annual international celebration of social prescribing. Clinicians, allied healthcare professionals, community groups, voluntary organisations, patients, medical schools, academics, and students across the UK and world will host a series of events and activities across the globe to raise awareness of social prescribing in people of all ages.
Social prescribing has recently been recognised as having a key role in the treatment and prevention of mental health issues, loneliness, obesity and other chronic diseases making it an integral part of the future of NHS England's Long Term Plan. International Social Prescribing Day has been designed to celebrate the hard work of practitioners and patients, disseminating and showcasing the benefits of social prescribing and aiming to create a ripple effect from the front line within local communities and expanding throughout the world.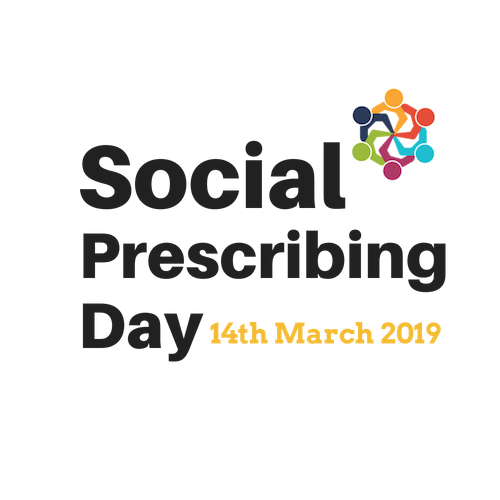 On 14 March 2019 universities, general practices, and hospitals across the UK and in countries across the world will be hosting awareness stands in cafes and restaurants to raise awareness of the benefits of social prescribing. Many organisations are organising their own events and campaigns. The Social Prescribing Student Champion Scheme – made up of 72 medical students representing all medical schools in the UK are organising several regional conferences as well as the Second National Social Prescribing Conference for medical students and Junior Doctors taking place at the Royal Society of Medicine in London on 10 March 2019.
Dr Marie Polley, co-founder of The Social Prescribing Network and Senior Lecturer in Health Sciences at the University of Westminster said: "Raising the awareness of social prescribing for professionals and the public is a crucial next step now that social prescribing has been included as part of the future NHS. The Social Prescribing Network and University of Westminster is delighted to be supporting this awareness day, not only in the UK but with our international collaborators."
Michael Dixon, co-founder of The Social Prescribing Network and GP said: "Social Prescribing represents an entirely new approach to healing and health that uses the resources within our communities rather than drugs or medical procedures. It has been shown to benefit patients and reduce the demand on hospitals and GP surgeries and will, in future, be a crucial part of ensuring that our health service remains financially sustainable. International Social Prescribing Day will be an opportunity to celebrate a new way for patients and clinicians"
Bogdan Chiva-Giurca, Chair, Social Prescribing Student Champion Scheme and co-ordinator of the International Social Prescribing Day said: "In hospital and during placement, we often observe the lack of support available for patients struggling with loneliness, mental health, obesity and chronic diseases. Pills only provide short term solutions. Instead, future generations of doctors needs to go beyond pills. They need to focus on prevention, on social determinants of ill-health and personalised care. I believe social prescribing must become part of the essential clinical toolkit for doctors to come."
National Wellbeing Service Ltd and affiliated Centres
The National Wellbeing Service Ltd and its affiliated centres and faculties including the Centre for Stress Management, Centre for Coaching, Centre for Health Coaching and the International Academy for Professional Development Ltd will be supporting International Social Prescribing Day over social media. Get involved yourself over social media – use the hashtag: #SocialPrescribingDay
Information about social prescribing
Social-Prescribing-Invitation-Letter – How to get involved!
Social Prescribing Leaflet making sense of social prescribing